Print cotton silk fabric
is a blend of cotton and silk fibers. This type of fabric combines the best qualities of both fibers to create a versatile and comfortable material that is suitable for a range of applications.
Cotton provides the fabric with strength and durability, making it suitable for a range of garments and accessories. It is also absorbent and breathable, making it comfortable to wear, especially in warm weather.
Silk, on the other hand, contributes to softness, luster, and draping ability. The natural luster of silk gives the fabric a luxurious appearance, and the softness of the fibers makes it comfortable to wear.
Print cotton silk fabric is often used for clothing, such as dresses, skirts, blouses, and pants, as well as for home décor items, such as curtains and pillow covers. The printing process can add a variety of patterns and designs to the fabric, creating a unique and eye-catching appearance.
One of the advantages of printing cotton silk fabric is that it is relatively affordable compared to 100% silk fabrics, while still providing many of the luxurious qualities of silk. It is also easy to care for and maintain and can be machine washed and dried.
Overall, print cotton silk fabric is a versatile and attractive option for those looking for a soft and luxurious fabric with a printed design. It offers the best of both cotton and silk fibers, making it a popular choice for clothing and home décor.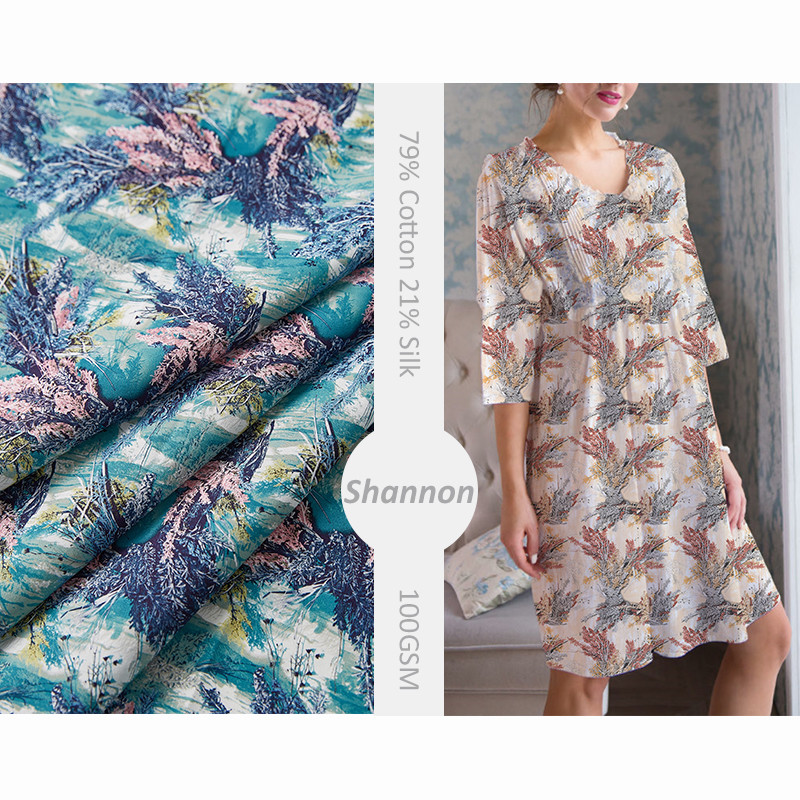 The digital print 79% cotton 21% silk fabric has both advantages of silk and cotton. It's 100GSM and 58"width.
It's smooth, silky drape and incomparable soft. Meantime it's wrinkle resistant, breathable and sweat absorption. Widely used in dress, skirt, shirt , etc.
Vibrant and unique patterns suit different styles and custom design is accepted.