Cotton silk fabric
is a type of fabric that is made from a blend of cotton and silk fibers. It is known for its softness, durability, and durability. Some common features of cotton silk fabric include:
Softness: Cotton silk fabric has a soft, smooth texture that is comfortable against the skin.
Drapability: The fabric has good drapability which means it can be easily folded, draped, or pleated.
Durability: Cotton silk fabric is a durable fabric that can withstand regular wear and tear.
Moisture-wicking: Cotton silk fabric is able to wick away moisture from the skin, which can help to keep the wearer cool and dry.
Breathability: Cotton silk fabric is breathable, which allows air to circulate through the fabric and can help to keep the wearer comfortable.
Hypoallergenic: Cotton silk fabric is hypoallergenic which means it is less likely to cause allergic reactions.
UV protection: Some cotton silk fabrics have UV protection, which can help to protect the wearer from harmful UV rays.
Variety of colors: Cotton silk fabric comes in a wide range of colors, which can be chosen based on the desired look or application.
Easy to care for: Cotton silk fabric is typically easy to care for, and it can be machine washed or dry-cleaned.
Versatility:
Cotton silk fabric is versatile and can be used for a variety of applications, including clothing, home decor, and upholstery.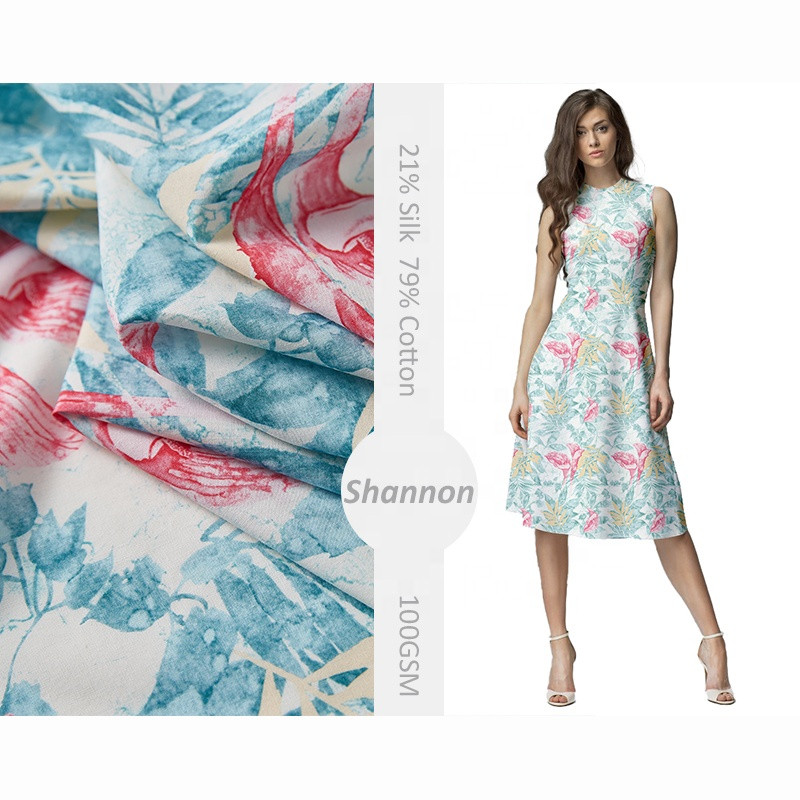 New design 79% cotton 21% silk Chinoiserie Cotton Silk Fabric
The digital print 79% cotton 21% silk fabric has both advantages of silk and cotton. It's 100GSM and 58"width.
It's smooth, silky drape and incomparable soft. Meantime it's wrinkle resistant, breathable and sweat absorption. Widely used in dress, skirt, shirt , etc.